New Year's promise? No resolutions.
As I write this, 2018 is just around the corner. Two more days until I have a clean slate. Again. A blank page. A list of promises to myself– that will likely last for only 4-5 weeks. Not being pessimistic, I tell myself. Just realistic. Right? But, there's something about a new year. 365 days to accomplish something. Try something new. Become someone better. Okay– maybe just a little better. A tweak. A goal to strive for. Maybe something we finally allow ourselves to let go. A burden we've carried for too long.  
My new book, Out of the Ashes is about forgiveness. Of the mistakes we sometimes make. Of the promises we failed to keep (or those damned resolutions). Ashes is about two flawed people, who have both made terrible mistakes. Years later, instead of forgiving themselves, they continue to live in the shadow of that single moment, when everything changed.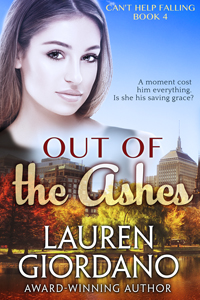 I hope you will join me next month for Curtis and Shannon's journey. It was sometimes painful to write, yet cathartic, too. My New Years resolution? To be kinder– hopefully to everyone in my path. To hurry less often. Enjoy more moments. Savor more books. Discover new writers. To be more active. Writing necessitates sitting for long, long periods of time. So, I'm going to work on that. And when most of these promises wander into the snowdrifts in February, I'm going to try to remember to forgive myself. You should, too. My best wishes for a wonderful 2018. Lauren