Out on a Limb
Book 3: Can't Help Falling Series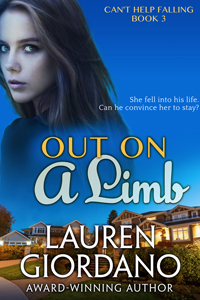 Out on a Limb, book 3 in the Can't Help Falling series. Available now!
Out of Options:  
MaryJo Mullaney is out on a limb . . . literally. High in a tree in the middle of a gusting rainstorm. No glasses. No shoes. No coat. Rescuing her cat, Jack– who doesn't realize he needs rescuing. Banker by day, hacker by night, she's given up on the male species. Except for Jack.
Coding his next blockbuster software release, millionaire developer Travis Lockwood, discovers a spy perched in the tree outside his second floor window. A rival developer out for a little espionage? This time he'll take matters into his own hands.
Rescuing MaryJo is a breath of fresh air for the workaholic loner. Convincing the beautiful hacker that a hot, no-strings affair is better than a relationship may prove challenging. Because MaryJo has rules. Specifically, a seven-date-rule she refuses to budge from. Battling wills with the stubborn beauty ticks him off– yet, somehow makes him try even harder to win. But, risking his heart might be the greatest victory of all.
When corporate espionage morphs into threats against MaryJo, they will battle a faceless enemy bent on destruction. At stake: his company . . . or MaryJo's life.  
Out on a Limb is about accepting yourself– and remaining true to your beliefs, no matter what everyone else thinks.