Out of Reach
Book 2: Can't Help Falling Series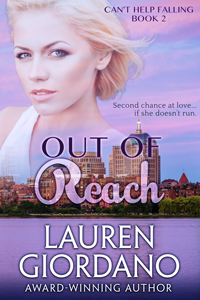 Available now!  Can't Help Falling Book 2 
Out of Reasons . . .
            Member of an elite Army Ranger squad specializing in black ops, Teagan 'TJ' O'Brien has traveled halfway around the world, returning home to Boston before another dangerous tour of duty. Discovering a beautiful squatter in his apartment after a sixteen hour flight is simply . . . unacceptable.  
            When Teagan breaks down the door, Alyssa Barnes' memories come flooding back. One horrible, amazing night she's never managed to erase– ending with Teagan's leap from her bedroom window. Now, to catch the stalker who wants her out of the picture, she'll be forced to rely on the proven flight risk. 
             TJ's best friend extracted one promise only– stay away from his sister. Maintaining several continents between them has worked just fine. When their paths unexpectedly cross again, he wants to believe it's only to keep Alyssa safe. Because hunting a stalker is easier than resisting the woman he left behind.