About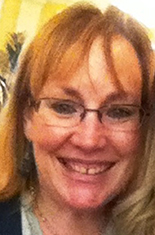 Hi! I'm Lauren Giordano. Thanks for visiting my page. I write contemporary romance & romantic suspense, but I'm an avid reader of many genres.
How I started writing? I received my first typewriter in sixth grade. After saving my allowance, my dad took me to a pawn shop. For $ 15.00, that baby was mine! A 'pre-owned', manual Brother typewriter, missing the letter T. Though my parents didn't believe the writing bug would last, I knew something they didn't:
Not only was I the next Nancy Drew, but her author as well. My first novel was completed during summer vacation in 1975 — a variation on Nancy Drew, the Hardy Boys, and Trixie Belden. That summer I learned to type as I painstakingly wrote 76 single-spaced pages (I didn't know about double-spacing yet). Eventually, my manual typewriter was replaced by an electric Smith Corona for college. And then finally– a computer!
But I'll always have fond memories of that Brother. At twelve years old, I discovered the joy and frustration of writing stories. The freedom and endless possibilities of a single sheet of blank paper. Let the adventures begin!
I hope you enjoy them!